From Our Correspondent in Kano
An eight-year-old girl, simply identified as Sharifa of Gadon Kaya Quarters, is currently recuperating at Mallam Aminu Kano Teaching Hospital, Kano following a stab wound in her stomach.
A 35-year-old woman, Fatima Salisu, allegedly stabbed Shafiya.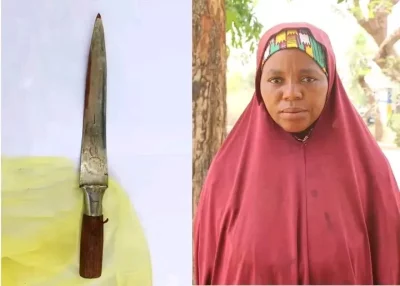 The Police, Kano Command, have, however, arrested Salisu and her husband for the crime.
The Police Public Relations Officer, SP Abdullahi Haruna-Kiyawa, confirmed the arrest in a statement at the weekend in Kano.
Haruna-Kiyawa said the Police received a distressed call on May 14, at about 6.40 p.m. from a good Samaritan.
The Samaritan told the Police that he heard the cry of a girl from an uncompleted building.
The building is located at Kureken Sani quarters in Kumbotso Local Government.
"The good Samaritan rushed to the scene where he met Sharifa in a pool of blood stabbed with a sharp knife.
"The knife was stuck in her stomach and injuries on other parts of her body.
"On receiving information, the Police rescued and rushed Sharifa to Mallam Aminu Kano Teaching Hospital for treatment," the PPRO stated.
He stated that Commissioner of Police Kano, Mohammed Usaini-Gumel, immediately directed the arrest of the perpetrator(s) of the crime.
Read Related News:
According to Haruna-Kiyawa, the Police arrested the suspect in Dungulmi Village, in Dutse, Jigawa State on May 18.
He said the victim, recuperating at the hospital, identified the woman who stabbed her as one Fatima.
Fatima reportedly lives in the victim's neighbourhood.
The girl informed the Police that the suspect took her to the uncompleted building in Kureken Sani.
"The victim said the suspect stabbed her with a knife on her neck and stomach, leaving the knife stuck in her stomach, abandoned her and ran away from the scene," the PPRO added.
During the preliminary investigation, Haruna-Kiyawa stated that the Police arrested the suspect's husband, Yusuf Aminu of Gadon Kaya Quarters.
"Aminu claimed that his wife (suspect) has a mental disorder and he was unaware of her whereabouts."
Haruna-Kiyawa stated that the suspect had confessed that she stabbed the girl in revenge because her father had been advising her (suspect) husband to marry a second wife.
"Investigation is ongoing and once completed, she will be charged to court.
"The Commissioner of Police appreciates those that assisted with the information that led to the arrest of the suspect," Haruna-Kiyawa stated.
Do you have a flair for Citizenship Journalism? Share story(ies) of happenings in your area with The NewsZenith on WhatsApp: 08033668669 or thenewszenith@gmail.com