The Association of African Universities (AAU) has just honoured Emeritus Professor Peter Okebukola of Nigeria as a Goodwill Ambassador of Higher Education in Africa.
Okebukola received the award during the opening of the 22nd Conference of Rectors, Vice Chancellors and Presidents of African Universities (COREVIP).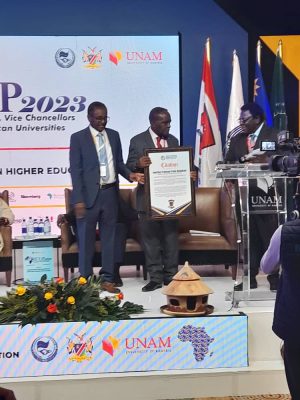 The NewsZenith reports that the five-day biennial conference is an opportunity for stakeholders to interact.
It is expected to come up with practical policies on higher education across Africa.
The theme of the conference is "Advancing Excellence in African Higher Education".
The University of Namibia in Windhoek hosted the conference.
Prof. Is-haq Oloyede, JAMB Registrar and many Vice-Chancellors from Nigeria witnessed the glamorous event.
Some Vice-Chancellors included Prof. Wahab Egbewole of Unilorin; Prof. Adebayo Bamire, OAU and Prof. Ibiyemi Olatunji-Bello of LASU among others.
Abdur-Rahman Balogun represented Dr Abike Dabiri-Erewa, Chairman of Nigerians in Diaspora Commission (NIDCOM) among other stakeholders.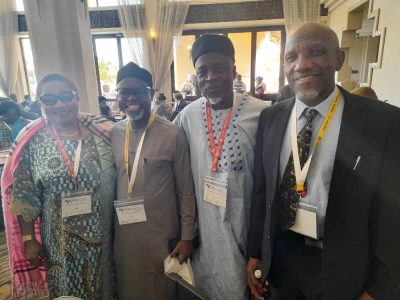 Others in attendance include Ministers of Education from Africa, academics, researchers, development partners, policymakers and higher education networks.
There were opening remarks from Prof. Kenneth Matengu, Vice-Chancellor of the University of Namibia and Prof Olusola Oyewole, Secretary-General of AAU.
Prof. Saeed Osman, President of AAU and Prof. Jean Koulidiati, Rector of the Pan African University on behalf of the African Union Commission also spoke at the start of the conference.
Do you have a flair for Citizenship Journalism? Share story(ies) of happenings in your area with The NewsZenith on WhatsApp: 08033668669 or thenewszenith@gmail.com