By Atanda T. Kola
On Nov. 16, the Presidential flag-bearer of the ruling APC, Bola Ahmed Tinubu, met with leaders of the Christian Association of Nigeria (CAN) at the Christian Ecumenical Centre in Abuja.
The meeting centered majorly on shedding lights on some lingering issues, especially in relation to this Muslim-Muslim ticket of APC. It also afford him to present his agenda if he wins the 2023 presidential election.
Similar on Sunday, Tinubu was hosted by the Muslims Clerics under the aegis of Muslim Ummah of South West, Nigeria (MUSWEN). Again, the topic of discussion centred on the 2023 presidential election.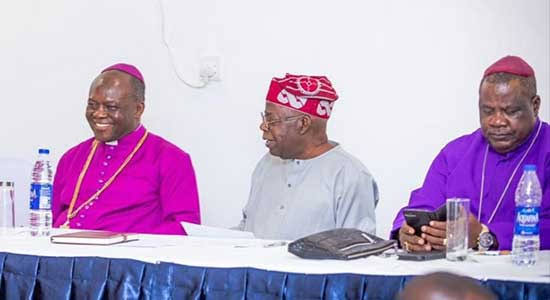 The meeting held at Hall of Grace, Jogor Centre, Liberty Road, Oke-Ado, Ibadan.
Within few months, the Jagaban of Borgu has visited almost all the states and all the geopolitical zones in the Nigeria and without discrimination in his intention to win the apex seat in Nigeria.
His campaign plans take care of the major pressing challenges facing the Nigeria masses. Tinubu has already designed measures to tackle them.
He has been busy mending fences across all the ranks and files to amicably resolve all crisis within his camp without being sentimental.
By implication, that is the type of man Nigeria needs at this period of time.
In terms of capacity and capability, he is outstanding among all other candidates. His competency is the reflection of the present Lagos state.
Read Related News:
You might be wondering that references are usually draw from Lagos, this is because, that is the only state he governed and he did it brilliantly and successfully.
This is a man whose quest for presidency is not about gaining power. It is about securing good governance for the nation.
Together with the executive and legislative branches of this democratic the tree must strive to cultivate and bring forth good fruit for the welfare of our people.
He has a formidable structures that he has been nurturing in the last 30 years. The structures transverse across both Muslims and Christians of all tribes in Nigeria and beyond.
He has his sight spot on recruiting talents. As such, he already has a team to work with in order to attain his desired results.
Also Read:
2023 Election: Sanwo-Olu says won't take supporters for granted
Many people did not know Fashola, Ambode and Sanwoolu among others until he recruited them to perform wonders in Lagos state.
Only those conversant with the then Lagos State handed over to Tinubu by the military government would appreciate his effort.
Despite being favourite to emerge victorious in the coming contest, he still act like an underdog belonging to opposition party.
He is busy canvassing with every available opportunities without desperation.
He focuses on uniting people regardless of religion differences, just like he did in Lagos and other South-west states.
As such, God willing, I've no doubt about his competence and commitment to transform Nigeria of our dream.
Atanda is a member of Support Tinubu-Shettima for President.
Do you have a flair for Citizenship Journalism? Share story(ies) of happenings in your area with The NewsZenith on WhatsApp: 08033668669 or thenewszenith@gmail.com