By Our Correspondent
The Chief Imam of Sideeqat Ahmad Megida Central Mosque Ikorodu, Alhaji Nurudeen Abdul-Kadiri, has advised the incoming administration of the President-elect to uphold justice and protect lives and property.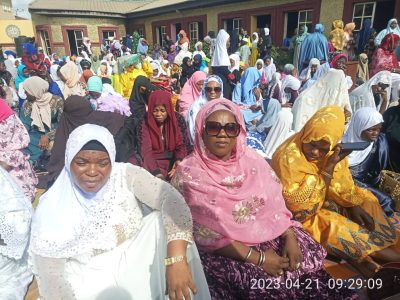 Abdul-Kadiri made the plea at the Eid-el-Fitr prayer held in Ikorodu, Lagos State on Friday.
He quoted from the Holy Qur'an where Allah says He would not change the condition of any nation except the people were just and renounced all evil ways.
"If all of us can stop our evil ways, Allah will fix Nigeria for us.
"My advice to the incoming government is that they uphold justice, protect lives and property and unite the people.
"President-elect, Asiwaju Bola Ahmed Tinubu, should ask Nigerians to go back to the basics.
"Because if we get it right at the level of the family, society will be better for all.
"The incoming administration should make education and food affordable and available for the masses," the Chief Imam advised.
He also urged Nigerians to always remember leaders in prayers and support them to succeed.
Abdul-Kadiri pleaded with Nigerian Muslims to continue with the good deeds they exhibited during the Ramadan period.
The cleric advised Muslims to allow God's consciousness to be the driving force of all their actions.
According to him, the purpose of Ramadan is to inculcate piety, so that society would be balanced and peaceful.
Prof. Ibrahim Oreagba of the Pharmacology and Toxicology Department, University of Lagos, congratulated all Muslims on the Eid-el-Fitr celebration after 29 days of fasting during Ramadan.
Oreagba prayed to Almighty Allah to continue to bless Nigerians individually and collectively.
He said there was an urgent need for leaders that should transform the economy for the good of all Nigerians.
"We need a leader that really has the masses in mind to help and care for them.
"That is the kind of leader that we need presently and we believe the President-elect, Sen. Bola Tinubu will do that for our people.
"The situation is not good enough but we have faith in Allah that will make it better for us through the leader that we have elected," Oreagba said.
Do you have a flair for Citizenship Journalism? Share story(ies) of happenings in your area with The NewsZenith on WhatsApp: 08033668669 or thenewszenith@gmail.com