Voters at several polling units in Alimosho Local Government Area of Lagos State waited endlessly for the arrival of Independent National Electoral Commission (INEC) officials on Saturday.
INEC had scheduled the poll to open across the country at 8.00 a.m.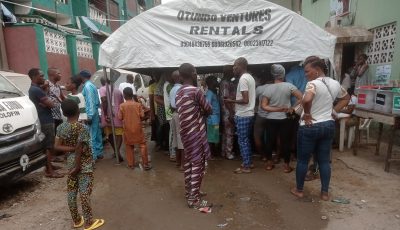 Over 100 voters were seen, waiting for INEC officials at polling units 24-04-03-010, 24-04-03-013 and 24-04-03-021 at Alimosho for the polls to commence.
Security operatives were yet to arrive at these polling stations by the time of filing this report by 9.00 a.m.
Mr Oluwafemi Abidoye, a voter, told The NewsZenith reporter that he had been waiting since 7.30 a.m. for the process to begin.
"I have been here like other voters since 7.30 a.m. and I met some people already waiting when I arrived.
Party agents were already on ground, waiting for the accreditation of voters and the commencement of the exercise.
As of 9.18 a.m., electoral activities were yet to begin at the polling units.
Do you have a flair for Citizenship Journalism? Share story(ies) of happenings in your area with The NewsZenith on WhatsApp: 08033668669 or thenewszenith@gmail.com