From Our Correspondents
Joe Ajaero, the President of the Nigeria Labour Congress (NLC), on Wednesday, led the nationwide protest called by organised labour and mobilised other unions to join the protest in Abuja.
TheNewsZenith reports that this is contrary to expectation of the government when Chief of Staff, Femi Gbajabiamila gave the assurance, on Tuesday, that the labour union would shift their proposed industrial action.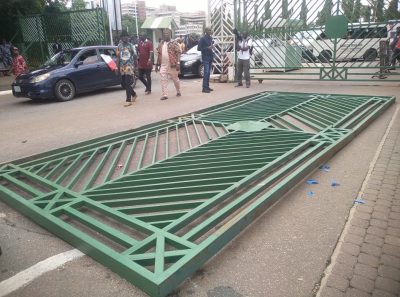 "We appealed to labour to call off their strike tomorrow. And they all agreed Mr President's broadcast was a welcomed development and they will go back home to talk to the leaders that are not here today," the CoS had told journalists.
However, TheNewsZenith reports that workers converged at the Unity Fountain in FCT at about 7.00 a.m. where they matched in peaceful protest the National Assembly.
Other labour leaders like Festus Osifo of the Trade Union Congress;  Emmanuel Ugboaja, NLC General Secretary; Muhammed Ibrahim, National President of the Senior Staff Association of Nigerian Universities and representatives of other unions.
The NLC last week issued a seven-day ultimatum to the federal government to reverse all perceived anti-people policies, including the recent hike in pump price of petrol.
It warned that failure to reverse the policies, the government would face an indefinite nationwide strike from Aug. 2.
At the National Assembly complex in Abuja, the peaceful protest turned roudy as protesters pulled down the entrance gate.
Earlier, the protesters had asked security operatives stationed at the legislative building to open the gates to allow the angry workers to express their feelings.
Following the failure of the security officials to adhere, angry protesters pulled down the gates and thronged into the assembly complex to vent their anger.
Read Related News:
Meanwhile in Yenagoa, Bayelsa State, protesters came out early in compliance with the directives of the state NLC.
They converged along Mbiama-Yenagoa road as early as 7.00 a.m. and marched to Government House.
Also in Kano, the protest, which had started on Tuesday, continued on Wednesday with protesters already gathered at Gidan Murtala around 7.00 a.m.
The policemen, however, dispersed the crowd later.
In Oyo State, the protest had started in Ibadan on Monday, as workers locked gates to the state secretariat.
The organised Labour Union in Ebonyi has called on the federal and state governments to prioritise slashing the cost of governance for sustainable development.
The NLC and TUC made the call during their peaceful in Abakaliki on Wednesday.
They noted that such a cut would go a long way in saving more money for the government to take care of the people's needs.
Do you have a flair for Citizenship Journalism? Share story(ies) of happenings in your area with The NewsZenith on WhatsApp: 08033668669 or thenewszenith@gmail.com