From Abdulfatah Babatunde in Owerri
Vanguard Newspapers' Editor, Eze Anaba emerged as 19th President of the Nigerian Guild of Editors at the 2023 National Biennial Convention, on Friday, in Owerri, Imo State.
Anaba scored 250 votes to defeat Mr Bolaji Adebiyi of ThisDay Newspapers, who secured 81 votes in election conducted peacefully.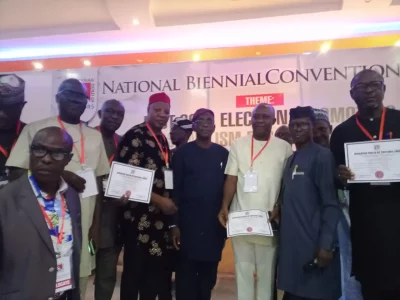 Adebiyi was the Vice President (West) of the executive team, whose two-year tenure ended on Friday.
The Election Committee, headed by Mrs Maimuna Garba, also returned Iyobosa Uwugiaren as General Secretary unopposed.
Other executive members are Husseina Bangshika – Deputy President; Umoru Ibrahim – Vice President (North); Kabir Garba – Vice President (West) and Sheddy Ozoene – Vice President (East).
Similarly, Charles Kalu emerged as Social/Publicity Secretary, Steve Nwosu returns as Treasurer and Gabriel Akinadewo, Assistant General Secretary.
Standing Committee members are Onuoha Ukeh, Oluwole Shogunle, Rose Moses, Dom Isute and Chinedu Egere.
Speaking after sworn-in, Anaba pledged to champion campaigns for reforms of outdated media laws in the country.
Read Related News:
"I will prioritise and focus on leading the campaign for necessary reforms of outdated media laws that tend to undermine media freedom and the operations of media houses in Nigeria.
"We will also seek to enhance relationship between our Guild and public agencies, regional and international stakeholders, partners and donors.
"We need to protect the interest and operations of broadcast and print media houses.
"I will promote and encourage participation of our members in decision-making process and Guild's activities," the new NGE President pledged.
On top of that, he stressed the need to strengthen the capacity of Guild members and provide legal support to members, who may face legal threats, harassment and intimidation.
Do you have a flair for Citizenship Journalism? Share story(ies) of happenings in your area with The NewsZenith on WhatsApp: 08033668669 or thenewszenith@gmail.com