From Abdulfatah Babatunde, Akure
A Point-of-Sale (POS) cash transaction operator in Akure, Ondo State, Mr Waheed Adéyemí has endeared himself to hundreds of cash-trapped residents by charging a low withdrawal commission.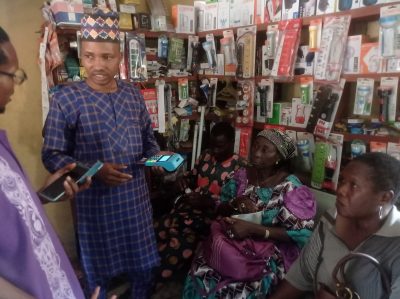 The NewsZenith reports that hundreds of residents troop to Adeyemi's shop on Awule road, Akure to withdraw money.
They were praising Adéyemí for charging the lowest amount of N50 on the N1000 withdrawal.
They alleged that many other operators in Akure were charging as much as N300 on N1000.
An automobile technician, Toba Morakinyo, told The NewsZenith that he was surprised to see an honest businessman like Waheed helping many people to access funds easily at a minimal cost.
This is happening when bank ATMs don't dispense cash.
Morakinyo said for three weeks consecutively when he passed through Aule road, he saw large crowd of people, withdrawing cash.
"Many of them are happy as they were able to get cash from Aafa Waheed.
"When they could not access their money stocked in banks, Aafa is always there for us," he said.
A roasted plantain (locally called booli) seller, Mrs Magret Iluyomade, said that, unlike many POS operators, Aafa Waheed had assisted many poor people in getting money to buy food.
Other operators, Iluyomade said, were taking undue advantage of the cash-trap situation to charge as much as N300 on N1,000.
She said had gone to her bank many times to withdraw but couldn't get cash.
Speaking to The NewsZenith on how he is source funds he is dispensing to his customers, Adeyemi disclosed that he gets funds from two business associates.
Read Related News:
He noted that he was getting the cash without paying any extra cost.
"One of my friends is selling biscuits and he gathers his daily sales, instead of depositing them in the bank.
"He gives the cash to me and I transfer the amount to his bank.
"Another friend, a bakery operator also gives me the proceeds of his daily sales of bread.
"With these two sources, I have been able to assist many people to get money at a very low commission," Adeyemi told The NewsZenith.
He said he charges N50 for every N1,000 and the limit a person can withdraw at a time is N5,000 so that the cash can go around many people.
Adeyemi said, at the peak of the cash crunch, he attends to a minimum of 500 people on a daily basis.
He thanked God that he was able to make money available to his customers and that he sees it as a service to humanity as Islam preaches.
"Those who are collecting N300 on N1,000 are just exploiting their fellow human beings.
"People are suffering. So, we must not add to that suffering.
"Islamically, exploitation of people is not allowed. So, I am happy to help people in this way," he said.
He also thanked his two friends (names withheld) who have been making cash available for him at no cost.
Adeyemi said his original line of business was the sale of mobile phone accessories and electronics. He recently added a POS service to his business.
Do you have a flair for Citizenship Journalism? Share story(ies) of happenings in your area with The NewsZenith on WhatsApp: 08033668669 or thenewszenith@gmail.com