The remains of former Judge of the World Court in The Hague, Prince Abdul-Jabbar Ajibola, were laid to rest in Abeokuta, Ogun State.
Ajibola's buriak followed a Janazah (Islamic prayer for the dead) held for him at the Islamic Mission for Africa (IMA) on Sunday.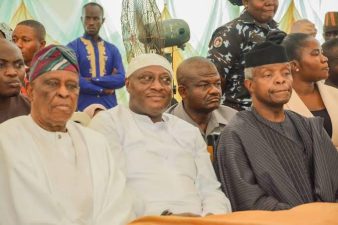 The Janazah was led by the Chief Imam of Egba Land, Sheikh Sa'dallah Bamgbola
The family interned him in a grave site between his legacy Al-Jabbar Mosque and the IMA Hospital.
The former Nigeria's Justice Minister, died in the early hours of Sunday, April 9,
Top Nigerian personalities gathered to pay him last respect at the IMA centre.
The Federal Government's delegation, led by the Vice President Yemi Osinbajo and many former ministerial aides attended the burial.
Other dignitaries that graced the event included the former President Olusegun Obasanjo; former Governor of Osun State, Olusegun Osoba.
A delegation of Sultan of Sokoto and Presidency of the Nigeria Supreme Council for Islamic Affairs (NSCIA) also attended.
Late Prince Bola Ajibola served as pioneer Chairman of the Board of Muslim Ummah of Southwest Nigeria (MUSWEN) and founder of the Islamic Mission for Africa (IMA) among many other top responsibilities he occupied in his lifetime.
Do you have a flair for Citizenship Journalism? Share story(ies) of happenings in your area with The NewsZenith on WhatsApp: 08033668669 or thenewszenith@gmail.com