From Our Correspondent in Abuja
Associate Professor of Computer Science at Louisiana State University, USA, Aisha Gombe says she is proudly a product of Nigerian education system and ready to give back to her home country.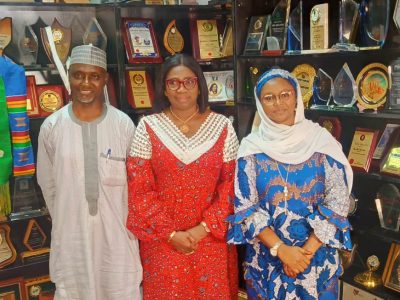 Gombe made the pledge when she visited Mrs Abike Dabiri-Erewa, Chairman of Nigerians in Diaspora Commission, on Wednesday, in Abuja.
She expressed her readiness to give back to her home country through her expertise in education.
The Cybersecurity expert said she would influence the standard of teaching Computer Science in Nigerian universities to meet global standards.
The NewsZenith gathered that the professor of  Computer Science recently won a grant from the United States Security Agency.
The grant is for Cybersecurity and Digital Forensic Laboratories.
"The world is evolving, so we are currently working with Gombe State University in Computer Science education.
"We are collaborating through active learning, improving curriculum, teaching more classes in artificial intelligence into science and more," Gombe said.
She added that she is already working on a modality for the state university to send some of its PhD students to her for bench work.
Gambo said she is currently funding five Nigerians to pursue their doctoral degrees in the United States.
Read Related News:
"Home is forever home and as a Nigerian, there are many opportunities, expertise and resources I can bring back home.
According to her,  part of her work in the USA involves working with National and State Security Agencies on Cybersecurity and Digital forensics.
She was excited about her meeting with Vice President Kashim Shetimma.
Shettima, she said, is already facilitating an arrangement for her to carry out capacity development training for multiple agencies in Nigeria.
Receiving Gombe, Dabiri-Erewa congratulated her on the United States National Security Agency grant of $1.5m for Cybersecurity Prototype Clinic (lab) for experiential.
She said Nigeria "is very proud of your achievements".
Prof. Gombe obtained her Bachelor's degree and MBA from University of Abuja and Bayero University, Kano respectively.
Do you have a flair for Citizenship Journalism? Share story(ies) of happenings in your area with The NewsZenith on WhatsApp: 08033668669 or thenewszenith@gmail.com