The Small and Medium Enterprises Development Agency of Nigeria (SMEDAN) has signed memorandum of understanding (MoU) with the First Bank and Sterling Bank to develop and promote Micro Small and Medium Enterprises (MSMEs).
In his remarks at First Bank event, Dr Olawale Fasanya, Director-General of SMEDAN identified funding as critical issue for MSMEs.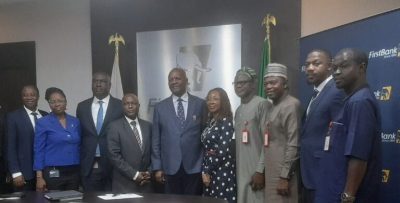 Fasanya, therefore, expressed joy that the bank was ready to partner with SMEDAN in developing MSMEs.
"But unfortunately, the issue of finance is a major issue, especially for those that are just going into business.
"When we look at the nature of nano and micro businesses, you discover that banks don't want to touch them.
"And MSMEs are the ones in the majority.
"So, when we have this kind of MoU where we can work with banks that are ready to fund credible businesses, we are usually very happy to enter into it.
"We also know that we should ensure that anybody we recommend, is able to show trustworthiness," Fasanya said.
He said SMEDAN was talking to the government to come up with a credit guarantee scheme that would help credible SMEs.
The SMEDAN boss also hinted that the agency "is organising the MSMEs together into cooperatives under different value chains".
This, he said, would enable them to source their raw materials as groups.
He also promised to provide a common facility for operators in the Garment, Furniture and Packaging sector.
Responding, Dr Adesola Adeduntan, CEO of First Bank said the partnership would change "not just the bank and SMEDAN, but the fortune of Nigeria".
Adeduntan remarked that SMEs play critical roles in the growth of Nigeria's Gross Domestic Product.
Read Related News:
This, he said is possible through diversification of the economy, job creation, wealth distribution and social stability.
"This is one of the driving forces behind our SME Connect initiative.
"Through the initiative, we offer bespoke financing and non-financing solutions to meet the needs of our growing SME community.
"For instance, in 2022, FirstBank disbursed about N455 billion in value, via tailor-made loan products to support SMEs in various industry segments.
"We have also continued to deploy various innovative e-payment products and services to aid SMEs' trade and collections and in the process, create a seamless experience of doing business.
"I commend the amazing work that SMEDAN is doing with the MSMEs sub-sector in Nigeria," the First Bank boss said.
Adeduntan was represented by the Executive Director, Chief Risk Officer of the bank, Mr Olusegun Alebiosu.
He said the partnership would also enable the bank and SMEDAN to accelerate digitisation and development of the SME subsector.
Also on Tuesday, SMEDAN partnered with the Sterling Bank on creating a support system for MSMEs to leverage.
Fasanya signed the MOU on behalf of SMEDAN, while Abubakar Suleman, the Managing Director signed on behalf of Sterling Bank.
Fasanya said that MSMEs operators would soon smile as the two institutions would accelerate the process.
According to him, the signing of the MoU with the Sterling Bank would facilitate MSME operations both in and outside the country.
Do you have a flair for Citizenship Journalism? Share story(ies) of happenings in your area with The NewsZenith on WhatsApp: 08033668669 or thenewszenith@gmail.com