The Managing Director of Nigeria Deposit Insurance Corporation (NDIC), Bello Hassan, has predicted more microfinance banks will join National Association of Microfinance Banks Unified Information Technology (NAMBUIT) platform this year.
Hassan made the prediction at the 2022 NDIC Editors Forum.
The theme of the Forum is "Deposit Insurance System (DIS) and Financial System Stability'', on Monday in Lagos.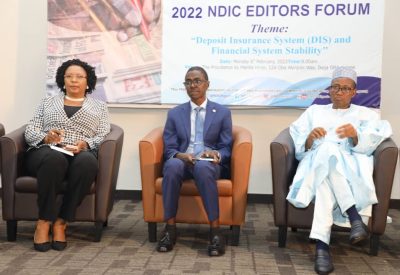 NAMB is the apex body of all licensed microfinance banks in Nigeria.
Hassan said that at the end of 2022, the NAMBUIT platform had onboarded some microfinance banks.
"The Corporation, in collaboration with the Central Bank of Nigeria(CBN), has been working on the National Association of Microfinance Banks' In-flight Information Technology platform.
"The platform provides uniform banking application to all microfinance banks to facilitate easy submission of returns to the CBN and the NDIC.
Read Related News:
"At the end of December 2020, the NAMB platform had on-boarded a significant number of microfinance banks.
"We expect the number to increase considerably this year," Bello said.
He noted that the corporation deployed the Single Customer Review Reporting Template (SCRRT) to Microfinance Banks and Primary Mortgage Banks.
This, he said, will address challenges of delays in payment of their depositors, in event of failure or liquidation.
According to him, the single customer view template presents unique and consistent information on bank depositors for faster payout of insured claims.
Hassan said that the corporation remained committed to further strengthening the deposit insurance framework.
It will also show timely support and fast-tracking efficient and orderly resolution of troubled insured financial institutions.
These, he added would be in accordance with international best practices.
"This remained the focus of the corporation as we work towards its vision of becoming one of the best deposit insurance in the world."
He added that NDIC is committed to upscaling media engagement through collaboration and partnerships to reach out to critical stakeholders.
Hassan expressed the hope that the forum would set the agenda for the realisation of the objectives of the engagement.
Do you have a flair for Citizenship Journalism? Share story(ies) of happenings in your area with The NewsZenith on WhatsApp: 08033668669 or thenewszenith@gmail.com