The Vice President of the Federal Republic of Nigeria, Prof. Yemi Osinbajo will on May 22, inaugurate the state-of-the-art fashion industry in Kogi State.
The facility, under the National MSME Clinics Shared Facility Scheme, is reputed to be the largest fashion industry in the North-Central Region.
Yemi Balogun, Information Officer of Kogi Enterprise Development Agency (KEDA), announced this in a statement issued, on Wednesday,  in Lokoja.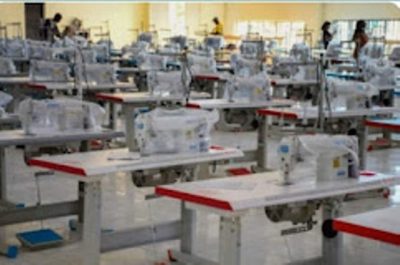 Balogun stated that Gov. Yahya Bello would receive Osinbajo on arrival in the state.
The VP will, thereafter, proceed to inaugurate the facility at the Skills Centre in Okene Local Government Area.
"The facility is a partnership project between the Government of Kogi State and the Federal Government.
"It is aimed at fostering collaboration amongst MSME Fashion Designers in Kogi State," the statement read in part.
It is also expected to provide an enabling environment for growth of the fashion subsector into serving the international markets.
"The world-class facility will provide small and medium-sized fashion businesses with access to high-quality equipment and resources at affordable costs.
Read Related News:
"It will also provide training and technical assistance to entrepreneurs to help grow their businesses," Balogun stated.
The government equipped the facility with many units of seven different high-quality industrial machines.
In her opening remarks, the Managing Director (KEDA), Hajia Rekiya Sanni said the initiative "is highly transformational".
Sanni noted that  the agency took delivery of 200 world-class manual and automated fashion equipment.
"The equipment has capacity to service 350 MSMEs daily."
She added that the government designed the facility was purposely to reduce bottlenecks and provide immediate responses to challenges faced by fashion designers in the state.
She urged prospective beneficiaries to see the project as an enterprise-friendly initiative.
KEDA boss also assured that it would create jobs and promote economic growth in Kogi. (The Reporters)
Do you have a flair for Citizenship Journalism? Share story(ies) of happenings in your area with The NewsZenith on WhatsApp: 08033668669 or thenewszenith@gmail.com