The Vice President, Sen. Kashim Shettima, on Monday in Abuja, decorated the new Comptroller-General of the Nigeria Customs Service (NCS).
Shettima described the appointment of Mr Adewale Adeniyi by President Bola Tinubu as a morale booster for officers in the service.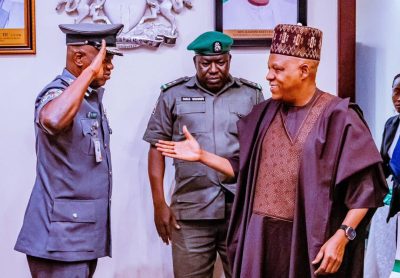 The NewsZenith reports that the Chief of Staff to the President, Femi Gbajabiamila witnessed the brief ceremony at the Presidential Villa.
The Vice President, congratulated the CG for bringing professionalism back to the Nigerian Customs Service.
"Now, every Customs officer can aspire to occupy the pinnacle of his or her profession.
"I wish you well, on behalf of the President and Commander-In-Chief of the Armed Forces, Congratulations, once again," the VP added.
Speaking to journalists shortly after the decoration, Adeniyi expressed gratitude to President Bola Tinubu for appointing a serving officer as the head of the agency.
He assured Nigerians of a more effective and innovation-driven Customs Service.
"We will leverage technology and deploy innovation to drive new Customs operations.
"In the last eight years, the Nigeria Customs Service has gone through a period of transition.
Read Related News:
"In some areas, we recorded progress – we made remarkable progress in E-Customs.
"We made a lot of breakthroughs in capacity building.
"But the Customs Service can still live to its full potential when we bring in more innovation to drive its operations.
"These are the kind of things we are looking at in the years ahead," the new Customs boss assured.
He said the NCS would be professional in its approach.
"There are a number of key stakeholders that we will be working with.
"It is an onerous task but we are going to be working alongside other stakeholders and partners that we have identified.
"We intend to come up with innovations that will carry along all partners and stakeholders," Adeniyi said.
Do you have a flair for Citizenship Journalism? Share story(ies) of happenings in your area with The NewsZenith on WhatsApp: 08033668669 or thenewszenith@gmail.com