By Our Correspondent
Atiku Abubakar, People's Democratic Party's (PDP) Presidential candidate says he will increase funding for Creative Arts if elected president in 2023.
Abubakar made the promise at a roundtable discussion with Nigeria's creative cultural and innovative industry stakeholders, on Saturday in Lagos.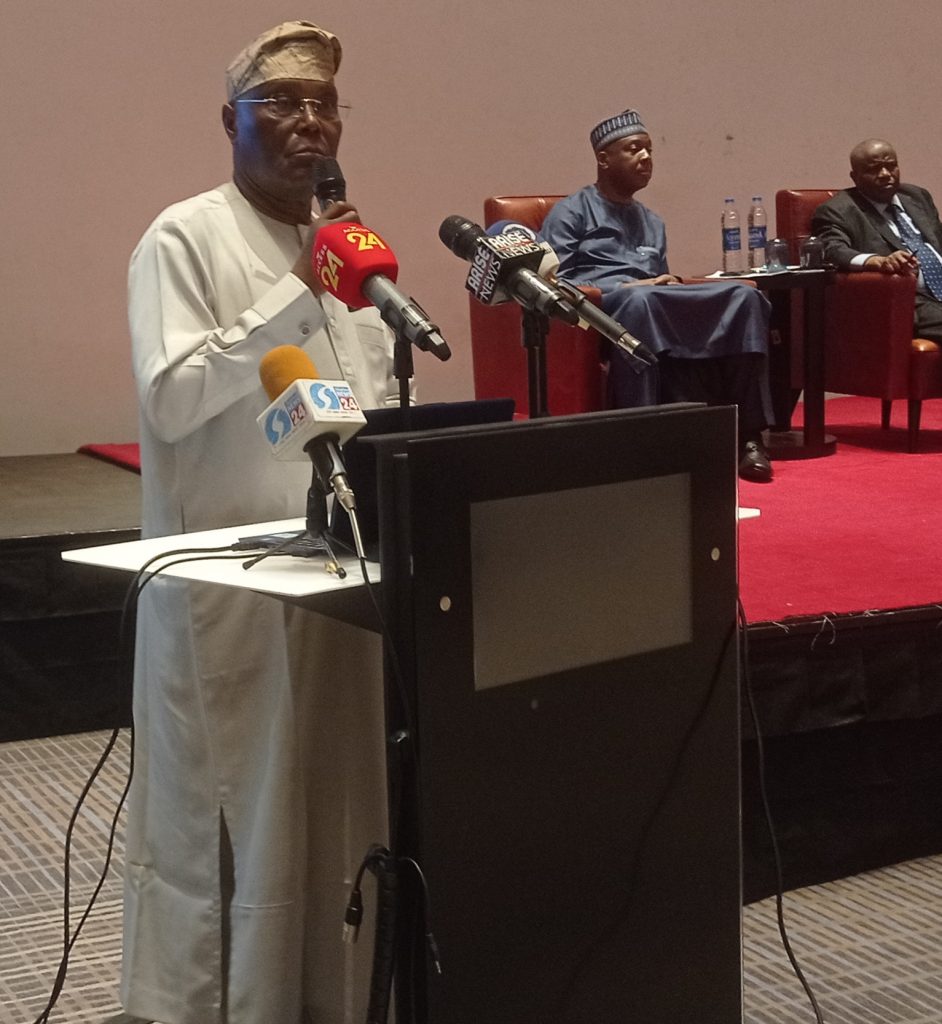 He also pledged to liberalise the process of Art acquisition once, he form his government upon success at the poll.
The meeting was aimed at strengthening the country's booming entertainment space and cultivating unifying support in championing Nigeria's creative expression.
The presidential hopeful acknowledged that the creative industry was a vital industry capable of creating wealth creation and generating employment.
"We should not toy with such an industry, having been identified as the second most important sector after agriculture.
"I commend the presentations so far, I understand your challenges which I am also facing because I own a television and radio station.
"I face the same problem of access to water, electricity and bad roads, so I want you to regard me as one of you.
Read Related Story:
"The way forward is to increase funds for the arts and liberalise the process of acquiring that fund.
"If you give me the opportunity, I will do it because it is essential.
"I reject direct CBN intervention and encourage the private sector to be part of this, government cannot develop all the funds needed.
"I look forward to a close collaboration with you on how we can develop the sector and exploit its potential.
"It is a multi-billion income-creating sector, if we can work together, we can make it," he said.
Abubakar commended the patriotic zeal of the private practitioners in the creative sector despite obstacles hindering their progress.
Also, Ifeanyi Okowa, the vice presidential candidate said the PDP government would articulate all requests of the practitioners in the creative sector just as promised by Abubakar.
Also Read:
Okowa said that the newly built film village in Asaba would be launched by December.
According to him, there are plans to engage practitioners in the creative industry to run the film village.
"The government would not be in the best position to run it," Okowa also the Delta State governor, said.
He urged Nigerians to turn out en mass to vote during the forthcoming elections in February.
"There will be a new Nigeria if we work together to defend our land and take pride in it.
"We can make Nigeria work again through collaboration to rebuild the foundation."
Earlier, Efe Omorogbe, a Talent Manager and Music Executive, said the major challenges confronting the music industry were piracy and Nigerians' unwillingness to pay music royalties.
He said less than 10 per cent of music consumers pay royalties, which is not encouraging.
Also speaking, Ayo Animashaun, the Executive Producer of Hip TV, spoke on the need to create an enabling environment for the creative industry to become a striving business.
"We do not have the enabling environment to perform at the best capacity.
"This makes it difficult for us to carry out major projects," Animashaun said.
Also, Chioma Ude, Founder of the Africa International Film Festival, spoke on the need to have more film festivals to showcase Nigerian and African creative content.
She said there was a need to prioritise training and capacity building.
"We should have exhibition platforms beyond the likes of Netflix and Amazon.
"We should have more film festivals to attract tourists," Ude said.
Also, Francis Onoche, a Filmmaker, requested that the new PDP government should revisit and provide endowment funds for the arts.
Onoche commended the efforts of former President Goodluck Jonathan for supporting filmmakers in training, distribution, production and capacity building.
Do you have a flair for Citizenship Journalism? Share story(ies) of happenings in your area with The NewsZenith on WhatsApp: 08033668669 or thenewszenith@gmail.com