Mr Abdulfatah Babatunde, the Deputy Editor-In-Chief/Acting Head of Lagos Operations of the News Agency of Nigeria (NAN) retired, on Wednesday, upon attaining the age of 60 years.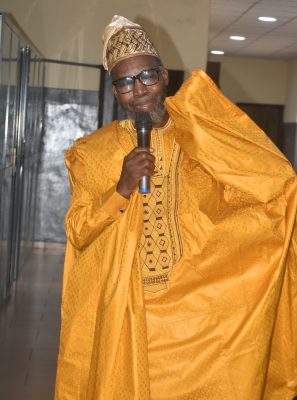 Babatunde retired after 31 years of meritorious service, having joined the service of the Agency in March 1992.
He rose through the ranks from Correspondent to Deputy Director
Scores of colleagues who have worked with him eulogise his leadership style.
They praised his ability to mentor younger reporters and editors under his supervision effective for high productivity.
They spoke of how he mentored and pushed them to work and get results.
Head of Editorial Operation, Folorunso Poroye commended Babatunde for exceptional leadership within his short period he headed the Lagos Directorate.
Poroye prayed that God gives Babatund sound health to live his retirement life.
The Editor-in-Chief of the News Agency of Nigeria, Mr Uzo Silas Nwoha,  congratulated Babatunde for his safe arrival at the end of his tour of duties.
"I join colleagues to hail our Head of Lagos Operations (HLO) as he bows out after a meritorious service to his fatherland.
"Abdulfatah Babatunde is a team player, a workaholic and a perfect gentleman.
"I give you my prayers as you join the enviable league of senior citizens.
"Thank you for giving so much to the News Agency of Nigeria. Your reward is invaluable.
"God will never let you down. Congratulations," Nwoha said in a message to him.
In another congratulatory message, Alhaji Abdulwarees Solanke, a Deputy Director at the Voice of Nigeria (VON) states Babatunde pens down today, after over three decades of meritorious and brilliant journalism at the News Agency of Nigeria.
"My brother Abdulfattah Adesina Iyanda Babatunde is penning down, to continue living in a new sphere.
"Coinciding with his milestone age of retirement, this tireless journalist rose to Deputy Editor in Chief in an organisation he joined in 1992 from the Kano-based Triumph Newspaper as its Adamawa State Bureau Chief.
"It's a journey of Triumph for my brother whose love for me earned me a namesake in his first son born in Yola.
"We were both representing our different media organisations in Yola then," Solanke, UniLag Alumnus and Coursemate of Babatunde, wrote.
Mrs Jane Francis-Oraka, a Deputy Editor-in-Chief at NAN, Port Harcourt wrote: Congratulations my friend.
"I thank God you are stepping out in good health and I wish you an abundance of it, fulfilment and happiness in the new stage of life you are stepping into.
"Congratulations and happy birthday," Francis-Oraka wrote.
A very senior retired colleague, Mr Vincent Obi also rejoiced with the retiring HLO.
"I just read of your retirement from NAN. Congratulations on your successful sojourn in NAN.
"Having retired from NAN 27 years ago, let me tell you that life in retirement can be difficult if you didn't plan well before retiring.
"I am sure you have retired but not tired.
"The friends you made while in active service can come handy.
"Try to take good care of your health from now on and rest when necessary.
"I wish you a healthy life in retirement. Congratulations and welcome to this side of the divide. Enjoy yourself," Obi advised.
Do you have a flair for Citizenship Journalism? Share story(ies) of happenings in your area with The NewsZenith on WhatsApp: 08033668669 or thenewszenith@gmail.com