Former Lagos Deputy-Governor, Dr Idiat Adebule, alongside other elected senators, received her Certificate of Return (CoR) from the INEC, on Tuesday in Abuja.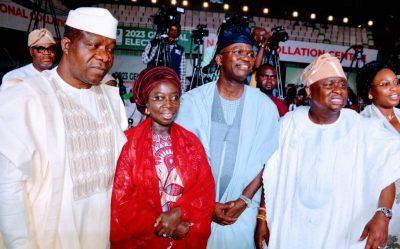 The NewsZenith reports that Adebule won the Lagos West Senatorial District seat in the Feb. 25 National Assembly election.
INEC National Commissioner, Sam Olumekun, presented the certificate to the senators at the International Conference Centre (ICC), Abuja.
The former Deputy Governor was accompanied by her husband, Alhaji Saheed Adebule.
Similarly, four other senators-elect also received their CoR.
They are Alhaji Shuaib Salisu, Ogun Central Senator-Elect: Dr Yunus Akintunde, Oyo Central: Adeola Solomon (Ogun West) and Tokunbo Abiru, Lagos East.
Speaking at a brief reception with friends and supporters, Adebule urged her fellow senators-elect to make the common man the centre of governance.
"We should pay attention to what they need and see how to make the society work for the coming man.
"Those are the things we intend to go and pursue in this 10th Senate.
"Apart from that, we also plan to get feedback from the people as the basis of what we are going to do during Senate sittings.
Read Related News:
"Constant feedback from the people should determine bills to be presented.
"Everything that would make life easier for Nigerians should be our major concern," she said.
Also speaking, Alhaji Salisu also agreed with Adebule that the 10th Senate should be people-focused.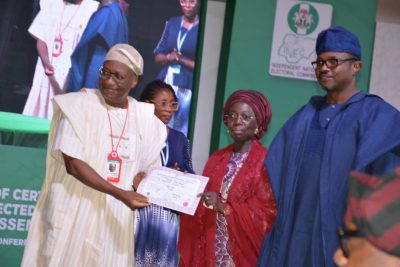 "We should make laws and interventions that will uplift the masses.
"All our actions should centre on the people.
"We have to provide a robust oversight function over the executive as assigned to us by the Constitution," Salisu said.
The government, he said, needs to assuage the youth's anger with good policies.
"The government should be able to address the challenges of Nigerian youths holistically.
"They've become desperate and we don't need to make them flip over.
"When they flip over, it will be difficult to manage.
Do you have a flair for Citizenship Journalism? Share story(ies) of happenings in your area with The NewsZenith on WhatsApp: 08033668669 or thenewszenith@gmail.com