By Our Correspondent in Ogere-Remo 
The Chief Imam of the Ogere Remo Muslim Community in Ogun State, Alhaji Imam Misbaudeen Salako has charged Muslims faithful to sustain the spirit of fasting beyond Ramadan period.
Salako gave the admonition during the Eid-ul-Fitri prayer held to round off the month of Ramadan on Friday in Ogere-Remo.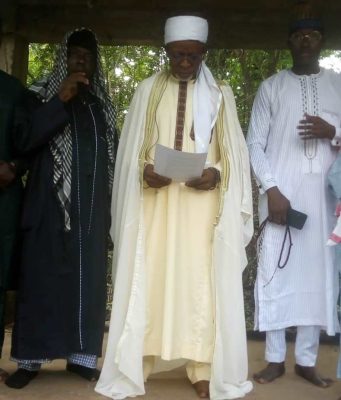 The NewsZenith reports that thousands of Muslims in the peaceful town along the Lagos – Ibadan expressway had joined the rest of the world to celebrate the Eid prayer.
Describing the day as the Day of Glorification of God Allah, the cleric said even though the month of Ramadan has ended, "still the fear of Allah and righteousness should be continued".
Salako urged Muslims to persist in their worship and dedication beyond Ramadan.
Read Related News:
"If you are worshipping Ramadan, the month has ended, but if your worship is For Allah alone, Allah is ever living.
"Therefore, we must continue all our acts of worship, righteousness, sacrifice and generosity beyond the month of Ramadan," the cleric said.
He also encouraged Muslims to observe six-day fasting in the new month of Shawwal known as Shitat-Shawwal.
According to the Imam, the reward of Shitat-Shawwal before Allah will be that of a person who fasted for the whole year.
the Imam charged all elected political officers to make fear of God Almighty and Love for the masses their watchword.
Do you have a flair for Citizenship Journalism? Share story(ies) of happenings in your area with The NewsZenith on WhatsApp: 08033668669 or thenewszenith@gmail.com