By Our Correspondent
The Federal Government has launched a fast-track service to enable Nigerians with expired passports, to return home without any hindrance.
The Federal Ministry of Interior and the Nigeria Immigration Service initiated the service for implementation at all ports of entry.
This is in continuation of the implementation of passport administration and immigration service reforms.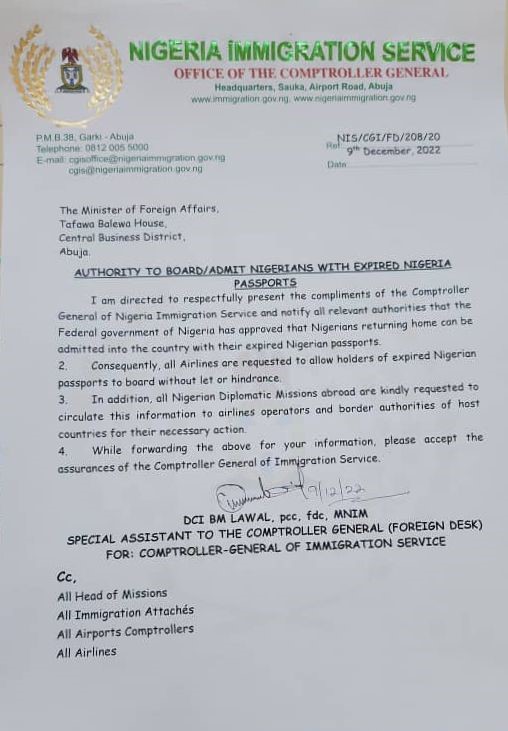 There is an ongoing dedicated diasporan service available from Dec. 12 to Jan. 31, 2023.
It allows Nigerian passport holders to board flights in their countries of residence and enter Nigeria with their expired documents.
The service, which will be available for two months, also gives the returnee Nigerians, the opportunity to renew their Nigerian passports during their stay in the country.
This is part of the multi-layer strategic reforms of passport administration in the country.
The NewsZenith reports that the Comptroller General of Immigration, Isah Jere Idris, had in a circular dated Dec. 9, stated that the Federal Government has approved the special arrangement.
The circular was forwarded to the Minister of Foreign Affairs and other relevant government agencies as well as all airlines for immediate action.
Jere explained that the government has requested all airlines in Nigeria to allow holders of expired passports to board without any hindrance.
Similarly, it requested Nigerian diplomatic missions abroad to circulate the same information to airline operators and border authorities of their host countries for compliance.
Read Related News:
The NewsZenith gathered that the Immigration Service had set up dedicated Diaspora Desks at all international airports across the country.
This is to ensure Nigerians returning home from abroad have hassle-free passage.
Jere also directed Passport Control Offices to accord priority to the returnees and their families.
He observed that most Nigerians abroad have a specific time they must return to their countries of residence after their holiday in Nigeria.
Do you have a flair for Citizenship Journalism? Share story(ies) of happenings in your area with The NewsZenith on WhatsApp: 08033668669 or thenewszenith@gmail.com