By Our Correspondent
Retired Brig.-Gen. Buba Marwa, Chairman of the National Drug Law Enforcement Agency (NDLEA), has instructed all commands of the Agency to immediately clamp down on illegal sale and use of nitrous oxide.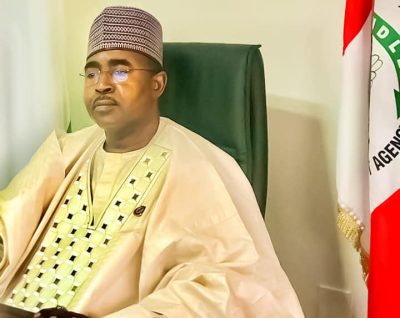 In a statement on Tuesday, Marwa said the order on nitrous oxide (aka Laughing Gas) is a sequel to its alleged abuse by certain people.
According to the agency,  some people are using laughing gas for recreational purposes.
The NewsZenith reports that nitrous oxide is a colourless gas commonly used for sedation and pain relief by dentists and other medical professionals.
Laughing gas is fast emerging as a drug in high demand in Nigeria. It is common among young party-goers or fun-seekers to feel intoxicated or high.
The gas is often transferred from its containers into balloons, from where its inhaled for euphoric effects.
The NDLEA said it is clamping down on illegal sale and use of nitrous oxide, following an analysis of its negative effects.
According to the agency, the side effects include dizziness; disorientation, headache, lightheadedness, fainting spells and hallucinations.
Read Related News:
Others are falling unconscious and/or suffocating from lack of oxygen and other neurological complications, especially psychiatric symptoms.
The Agency, he said, is taking other measures, in consultation with the Federal Ministry of Health to curb the menace.
"NDLEA will not hesitate to deal with anyone, no matter their social status, involved in illegal sale or use of nitrous oxide.
"This action is necessary in the overall interest of public health," the statement read in part.
The agency urges parents and guardians to be vigilant and warn their young ones against abusing the substance.
It said abusing the substance "poses threats to mental and overall well-being".
Do you have a flair for Citizenship Journalism? Share story(ies) of happenings in your area with The NewsZenith on WhatsApp: 08033668669 or thenewszenith@gmail.com