…..begins training of officers on Decentralised upload of personnel data
The Inspector-General of Police (IG) Usman Baba, has launched a digital biometric data capturing of the Force personnel records.
The Force Public Relations Officer, CSP Olumuyiwa Adejobi announced this in a statement emailed to The NewsZenith on Tuesday.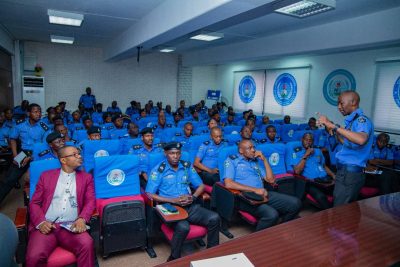 Tagged "IGP-SmartForce Database Management Centre", Adejobi said the IG launched the facility on Wednesday in Abuja.
the Force conceived the project for capturing data of all officers of the Nigeria Police Force.
He said the centre is to ensure that all officers have their details captured and stored for record purposes.
It would also ease administrative bottlenecks, create ease in tracking postings/transfers and issue Radio Frequency Identification cards for personnel identification.
"The 'SmartForce' is domiciled in the Force's National Command and Control Centre (NPF-C4i) facilities, Office of the Force Secretary, Abuja.
"It is aimed at integrating the Force into an ICT-Based System to simplify management of personnel records and manage its entire workforce," the statement read in part.
According to him, the facility will uniquely manage/identify each personnel of the Force.
It is structured with modern technological concepts to monitor the distribution of personnel workforce and access across the country.
Read Related News:
"The system will aid the office of the Force Secretary in planning for the deployment of personnel in the Force, budgetary-related issues and tracing/identification of Police personnel.
"It will also ease records retrieval as it relates to serving and retired Police personnel."
Meanwhile, the IG has equally flagged off the practical training of Police Public Relations Officers (PPROs) and ICT Officers from the 36 State Commands and the FCT.
The training is taking place at the Force Headquarters in Abuja on handling and use of the gadgets provided for data capturing of all personnel.
The gadgets include a modern hi-tech biometric machine with unique features like a Fingerprint scanner, 2D Scanner and Smart Facial Recognition application.
Baba reiterated his vision for a Police Force, driven by the integration of cutting-edge technology.
He has, therefore, ordered a total overhaul of the former system and a swift change-over to the digitalisation process across all commands and formations of the Force for timely upgrade and operation of the system.
Do you have a flair for Citizenship Journalism? Share story(ies) of happenings in your area with The NewsZenith on WhatsApp: 08033668669 or thenewszenith@gmail.com