The National Agency for Food and Drug Administration and Control (NAFDAC) and the Medical Science University (UniMed), Ondo State, are collaborating to boost research.
NAFDAC resident media consultant, Mr Olusayo Akintola, announced the collaboration in a statement on Wednesday in Abuja.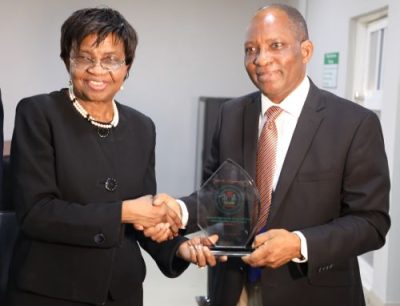 The statement, received by The NewsZenith on Thursday, said the collaboration would formally commit both institutions to work together.
The collaboration would be in the areas like on training, capacity building, applied research and community-based projects.
According to the statement, NAFDAC Director-General, Prof. Mojisola Adeyeye, made this position known at the official signing ceremony of the Memorandum of Understanding between the two organisations in Lagos.
It quoted Adeyeye as saying that the two institutions would collaborate in conducting and promoting mycotoxin research.
They would work on technology transfer in areas of quality control and assurance, risk assessment and management in food systems.
Also speaking, the Vice-Chancellor of UniMed, Prof. Adesegun Fatusi, explained the significance of collaborative partnerships in the university system.
He said that the institution needs partnerships with other organisations, federal agencies and private organisations.
He said that Olu Akinkugbe Pharms Education Trust is supporting the UniMed Faculty of Pharmacy.
Read Related News:
The Trust was established by the 93-year-old pharmacist and philanthropist, Prof Akin Akinkugbe.
According to Fatusi, Akinkugbe is the nation's oldest living pharmacist and national president of the Pharmaceutical Society of Nigeria.
He said that the institution was ready to channel a new pathway and to close existing gaps in Nigeria's health and medical system today.
The VC added that UniMed "is one of the best places to invest in".
According to him, the university has never recorded disruption in its academic activities.
"Neither the COVID-19 Pandemic nor the national ASUU strike has ever affected its programmes.
''We run an undisrupted academic calendar; eight years going, no disruption," Fatusi said.
He, however, urged NAFDAC personnel to come and study at the medical university.
Fatusi said he would also be glad to have experts in the agency to teach with the institution from the comfort of their offices, using various techniques.
Do you have a flair for Citizenship Journalism? Share story(ies) of happenings in your area with The NewsZenith on WhatsApp: 08033668669 or thenewszenith@gmail.com