APC Lagos West's Senator-elect, Dr Idiat Adebule has delivered her Polling Unit029, Iba in Ojo for Gov. Babajide Sanwo-Olu, and House of Assembly candidate, Segun Ege.
APC polled 115 votes, leaving the LP candidate at a distant second with 57 votes and the PDP came third with seven votes.
The House of Assembly results showed that APC got 113 votes, LP –  52 votes while PDP only garnered seven votes.
The Senetor-elect thanked the electorate and party faithful for having trust in her.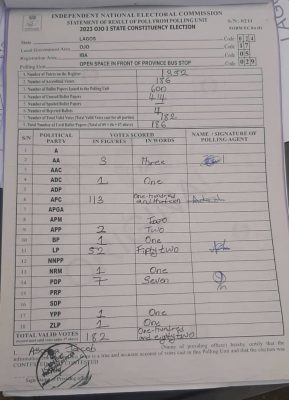 Earlier, Adebule commended the Independent National Electoral Commission (INEC) for the early arrival of the ad-hoc officials.
Speaking at Polling Unit 029 Iba, where she and her husband, Alhaji Saheed Adebule cast their votes, she said the exercise was an improvement over the Feb. 25 Presidential and National Assembly poll.
"It has been smooth so far. The electoral officials came early enough to begin the exercise.
Read Related News:
"I say kudos to the commission," Adebule said.
She expressed optimism that her party, the APC will come out victorious.
"My expectation is that my party should come out victorious in the governor and assembly poll.
"Our governor, Mr Babajide Sanwo-Olu would win because he has done quite a lot for the people of the state.
"We appreciate him for that and we want him to continue on that terrain and do more for the people of the state, especially in the Iba area.
"We need more development and we look forward to him giving us the best in terms of infrastructure," she said.
She also commended the INEC for the early arrival of the ad-hoc officials.
Do you have a flair for Citizenship Journalism? Share story(ies) of happenings in your area with The NewsZenith on WhatsApp: 08033668669 or thenewszenith@gmail.com