By Our Correspondent
It was a sorrowful Saturday for the family of a teenage girl hawking eggs on the ever-busy Lagos road as an articulated truck crushed her to death.
TheNewsZenith reports that the accident occurred on the Otedola bridge along Lagos/Ibadan expressway at about 3.30 p.m.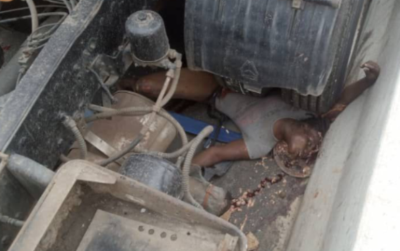 No one could identify the teenage girl at press time.
Our correspondent gathered that the truck registered GME483XD rammed into the girl and three other vehicles.
The vehicles are a Suzuki Combo registered EPE302HR, Toyota Camry registered MUS242HM and Toyota Avalon AYE453SF.
Eyewitnesses said the articulated vehicle had brake failure causing it to ram into egg hawker and the moving vehicles.
Read Related News:
The Permanent Secretary of the Lagos State Emergency Management Authority (LASEMA), Dr Olufemi Oke-Osanyintolu confirmed the accident.
Oke-Osanyintolu gave the confirmation in a statement issued late Saturday.
"On arrival at the incident scene, we discovered that a Tanker fully loaded with 60,000 litres of Deisel had crushed a female hawker on Otedola Bridge inward Berger.
"Investigation conducted by the Lagos Rescue Unit (LRU) of LASEMA revealed that the articulated truck suffered a mechanical fault (brake failure) and rammed into other moving vehicles in the process.
"The LRU, alongside Police RRS, LASAMBUS, FRSC, LASTMA, were on ground to salvage the situation," LASEMA stated.
Do you have a flair for Citizenship Journalism? Share story(ies) of happenings in your area with The NewsZenith on WhatsApp: 08033668669 or thenewszenith@gmail.com