Canadian Prime Minister Justin Trudeau, on Saturday, said U.S. fighter jet had shot down an "unidentified object" that was flying high over the Yukon.
Trudeau claimed he gave order to short down the UfO.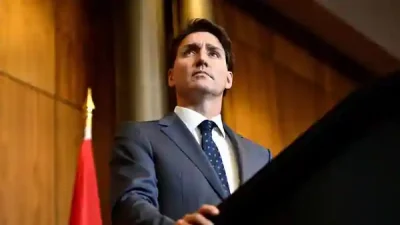 The claim comes days after U.S. government said they had shot down a Chinese Spying balloon.
The news also comes only a day after Whitehouse spokesperson, John Kirby on Friday, reported a similar incident.
Kirby had mentioned that the U.S. shot down an unidentified object that was as big as a car over Alaska.
Kirby said it was shot down because it was flying at about 40,000 feet (13,000 meters) and posed a "reasonable threat" to the safety of civilian flights.
He added it was not because of any knowledge that it was engaged in surveillance.
Trudeau had posted about the joint operation on Twitter.
"I ordered the take down of an unidentified object that violated Canadian airspace.
"@NORADCommand shot down the object over the Yukon.
"Canadian and U.S. aircraft were scrambled, and a US F-22 successfully fired at the object." he wrote.
Here are the top points to this story
-North American Aerospace Defence Command, the combined US-Canada organisation that provides shared defense of airspace over the two nations, detected the object flying at a high altitude Friday evening over Alaska, US officials said.
It crossed into Canadian airspace on Saturday.
-President Joe Burden gave order to shot down the object after Trudeau spoke with him.
-"President Biden authorised U.S. fighter aircraft assigned to North American Aerospace Defense Command (NORAD) to work with Canada to take down a high-altitude airborne object over northern Canada today," Pentagon Spokesman Pat Ryder said in a statement.
One of two F-22 fighter jets monitoring the object fired an AIM 9X missile that brought it down, it said.
-This is the third unidentified flying object the F-22 fighter jets have now taken out in a span of seven days.
This also questions the rising threat to American airpsace.
-Trudeau said Canadian forces would recover the wreckage for study.
The Yukon is westernmost Canadian territory and the among the least populated part of Canada.
-U.S. Northern Command, recovery operations continued Saturday on sea ice near Deadhorse, Alaska.
-The Northern Command said there were no new details on what the object was.
Alaska Command and Alaska National Guard, along with FBI and local law enforcement, conduct search and recovery.
-On Feb. 4, U.S. officials shot down a large white balloon off the coast of South Carolina.
-The balloon was part of a large surveillance program that China has been conducting for "several years," the Pentagon has said.
-The U.S. has said Chinese balloons have flown over dozens of countries across five continents in recent years, and it learned more about the balloon programme after closely monitoring the one shot down near South Carolina. (Livemint.com)
Do you have a flair for Citizenship Journalism? Share story(ies) of happenings in your area with The NewsZenith on WhatsApp: 08033668669 or thenewszenith@gmail.com