Angolan plans to create tax incentives to attract more investors to its diamond-cutting sector, Minister of Mineral Resources, Oil and Gas, Diamantino Azevedo, announced on Saturday.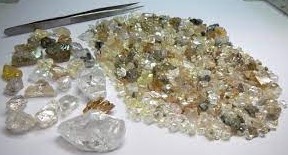 Azevedo made the announcement at the inauguration of the fifth diamond-cutting factory at Saurimo Diamond Development Park in Lunda Sul province.
He said the incentives aim to promote competitiveness, create more job opportunities and facilitate technology transfer.
The minister emphasised that his ministry would continue to work toward creating better conditions for industries installed in the park.
Read Related News:
This is particularly in response to company complaints regarding a lack of fiscal incentives.
Azevedo noted that the park is a significant contributor to the country's economic diversification and creates direct jobs, offering training opportunities and motivation.
The Saurimo Diamond Development Park was inaugurated in 2021.
It is a project with an estimated $77 million in investment in the first phase.
Currently, the park, covering more than 305,185 square meters, has five diamond-cutting factories and a training centre. (Xinhua)
Do you have a flair for Citizenship Journalism? Share story(ies) of happenings in your area with The NewsZenith on WhatsApp: 08033668669 or thenewszenith@gmail.com