An Islamic Cleric, Ustaz Nurudeen Olajire, has commended Nigerians for strengthening democracy by voing enmass for President Bola Ahned Tinubu in the last general elections.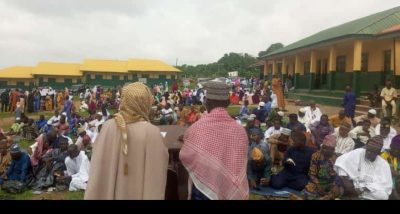 Olajide, one of the Missioners of The Muslim Congress (TMC), Ogun State gave the commendation in a sermon during the Eid-ul-Kabir prayer on Wednesday in Abeokuta.
"We commend all for turning out enmass in voting President Tinubu on Feb. 25, this year.
"We ask the President to resiprocate the good gesture by offering good governance.
"He should instroduce people oriented policies that will deliver dividends of democracy," Olajire said.
In his Eid-ul-Kabir sermon, the cleric said that Eid is not mere merrymaking but worship.
"Anyone who offends Allah today is as if sinning on the day of judgement.
Read Related News:
"Sinning today is as if we slap the judge before the judgement."
He said that the meat was not for exchange.
"If you have the ability to kill a ram and you refuse, it is a sin.
"Let us engage in love, brotherhood and be concerned about our brothers," the cleric said.
The NewsZenith reports that members of the TMC and the generality of Muslims converged at the Moshood Abiola Primary School, Car Wash, Abeokuta, for the Two-Rakat Nawafir (voluntary prayers) to mark the 1444A.H. Eid-ul-Kabir celebration.
Do you have a flair for Citizenship Journalism? Share story(ies) of happenings in your area with The NewsZenith on WhatsApp: 08033668669 or thenewszenith@gmail.com