President Bola Ahmed Tinubu, at his swearing-in on Monday, vowed to expand the economy by at least six per cent a year, lift barriers to investment, create jobs and unify the exchange rate.
Tinubu, who becomes the 16th Nigeria's President and Commander-in-Chief of the Armed Forces, also pledged to tackle rampant insecurity.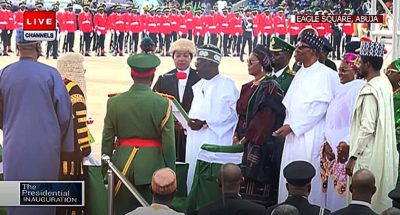 The NewsZenith reports that Chief Justice of Nigeria, Kayode Ariwoola, administered oath of office on Tinubu at exactly 10.37 a.m.
The Presidential Inauguration took place at Eagle Square in Abuja.
Ariwoola had earlier sworn in Sen. Kashim Shettima as Vice-President of the Federal Republic of Nigeria at about 10.30 a.m.
Shettima is a former governor of Borno State.
Speaking after taking oath of office, President Tinubu said his administration targets "a higher gross domestic product (GDP) growth".
He also pledged to significantly reduce unemployment.
Tinubu's predecessor, Muhammadu Buhari, after inauguration that signalled end of his eight-year tenure, departed to his hometown, Daura in Katsina.
Buhari spooked investors with protectionist policies including the closure of borders for months in 2019.
The new president will have to deal with shortages of foreign exchange, nearly two-decades-high inflation and widespread insecurity.
The country is equally grappling with epileptic power generation and falling oil production due to crude theft and underinvestment.
"I have a message for our investors, local and foreign.
"Our government shall review all their complaints about multiple taxations and various anti-investment inhibitions," Tinubu said.
Read Related News:
He said his administration would do away with the costly fuel subsidy in line with this year's budget.
The 2023 budget had set fuel subsidy removal from June onwards.
He also promised a "thorough house cleaning" of monetary policy, adding that the Central Bank of Nigeria (CBN) should work towards a unified exchange rate.
"This will direct funds away from arbitrage into meaningful investment in the plants, equipment and jobs that power the real economy."
Economists are already predicting that Tinubu would devalue the naira by as much as 15% to help stabilise the economy.
The new President had criticised a recent redesign and currency swap.
Tinubu also inherits a divided country after his victory that is being challenged in court by his main rivals.
The main rivals, Atiku Abubakar of PDP and Peter Obi of LP, see President Tinubu as a member of the old guard.
In Feb. 25 elections, he won with 37% of votes, edging his closest contenders, Atiku Abubakar and Peter Obi.
But Tinubu said his electoral victory was fair.
"My supporters, I thank you; to those who voted otherwise, I extend my hand across the political divide.
"I ask you to grasp it in national affinity and brotherhood," the President said.
Do you have a flair for Citizenship Journalism? Share story(ies) of happenings in your area with The NewsZenith on WhatsApp: 08033668669 or thenewszenith@gmail.com