The first batch of about 376 Nigerian students trapped in war-torn Sudan finally arrived in Abuja on Wednesday night.
They arrived at exactly 11.25 p.m. through the Pilgrims Terminal of the Nnamdi Azikiwe International Airport Abuja.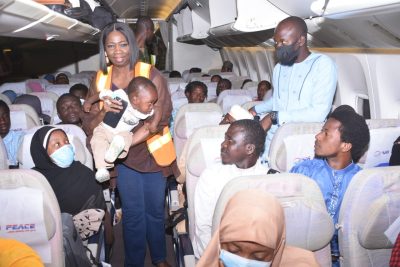 The first batch of stranded students was evacuated from the Aswan border of Egypt via the Air Peace Plane and the Nigeria Airforce Jet NAF C-130.
The Minister of Humanitarian Affairs, Director-General of NEMA, Chairman of NiDCOM and Federal Commissioner of National Commission for Refugees, Migrants and Internally Displaced Persons were on hand to receive the returnees.
Receiving them, the Minister of Humanitarian Affairs and Disaster Management, Hajiya Sadiya Faruk-Umar, announced a N100,000 stipend and N25,000 MTN recharge card for each of the evacuees.
Faruk-Umar said that Dangote Foundation donated the stipend as transport fare to enable them to travel to their various destinations.
She added that MTN also added 25Gigabites data to the N25,000 airtime for each of them.
Also speaking, the Sudanese Ambassador to Nigeria Mr Mohammad Yusuf, said the situation in Sudan would normalise.
Yusuf expressed happiness that Nigeria was able to evacuate her citizens safely.
He described Sudan as the second country to Nigerians, adding that normalcy would be restored and rehabilitation would start.
Director-General of NEMA, Mustapha Ahmed, said that four more flights are expected to bring Nigerians back home on Thursday (today).
Read Related News:
"The situation in Sudan is terrible but we pray for peace to return to that country.
"I am happy, our people have started coming back.
"We are expecting about four flights tomorrow, three from Port Sudan and one from Aswan.
"It is a process that started and the tempo will keep on increasing. Nobody expects this situation.
"To get out of Sudan, we had to pay to bring them out of Sudan, but we thank God that we are able to bring them back," Ahmed said.
He assured Nigerians that remaining stranded citizens would soon return home to continue their studies and business.
Mr Ibrahim Musa, a student, who leave on the outskirts of the capital Khartoum said, he was devastated when he started hearing sound of gunshots and grenades.
"At the time I started hearing the sound of gunshots, the first thing that comes to my mind was to escape and I thank God this is where I am," Musa said.
Another evacuee, Mrs Faith Stephen, a pregnant woman, however, said she would return to Sudan if the situation stabilises.
Stephen said she and her husband have invested so much in the country through their joint business.
Do you have a flair for Citizenship Journalism? Share story(ies) of happenings in your area with The NewsZenith on WhatsApp: 08033668669 or thenewszenith@gmail.com