APC Presidential Campaign Council (APC-PCC) has described as imaginary, the alleged attack on President Muhammadu Buhari in Kano on Monday.
APC-PCC's Director of Media & Publicity, Bayo Onanuga said in a statement on Tuesday that the imaginary attack was allegedly being peddled by the PDP.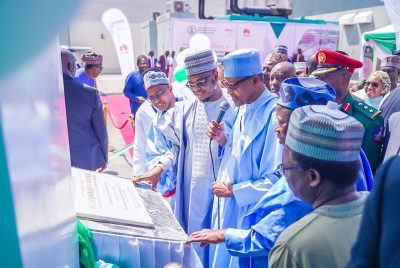 "We were not surprised to read of imaginary attack on President of Federal Republic of Nigeria being peddled by PDP.
"The party has nothing tangible to tell Nigerians from its crumbling Presidential Campaign.
"This invented attack on President Buhari must have happened in the imagination of PDP National Publicity Secretary, one Debo Ologunagba.
"Nigerians should disregard this fake news from a party that has lost touch with reality.
"It is suffering the agony of violating its own rules on power rotation.
"It's been masterminding fake news against the APC presidential candidate and trying vainly to cause disharmony in the APC family.
"We believe the party may have planned to embarrass President Buhari in Kano.
"And then, put the blame on host Gov. Ganduje and Tinubu," Onanuga stated.
Contrary to 'imaginary attack', APC-PCC said government and the good people of Kano received President Buhari warmly on Monday.
"He commissioned eight hugely impactful projects including an overhead bridge with an underpass and a cancer centre.
Read Related News:
"On Sunday, we alerted Nigerians to the plot by PDP to execute many evil plans to defame and ridicule the president.
"It also intended to delegitimise President Muhammadu Buhari and our presidential candidate, Asiwaju Bola Ahmed Tinubu.
"Nigerians of goodwill would have seen that we didn't raise false alarm in our statement issued on 29 January 2023.
"In the statement, we detailed the evil machinations of PDP and their hirelings.
"Only the evil mind of PDP could conceive an attack on a President of Nigeria," Onanuga stated.
According to him, PDP has recently morphed from being a Buhari virulent critic to strangely becoming a Buhari spokesperson!
"The last time it issued a self-serving misinterpretation of Asíwájú's statement in Abeokuta as an attack on President Buhari.
"It is obvious to Nigerians that the knowledge of impending defeat of PDP at the poll has pushed the party.
"And its candidate into frenzied hallucinatory mode of mindless, ludicrous litany of fabrications against APC and its candidate."
APC-PCC spokesman noted that the main opposition party "is a drowning party feverishly clawing at any straw of lies and lashing out in all delusional directions to keep afloat – but sink it will".
He expressed the belief that Nigerians are not taken in by the jejune antics.
"The PDP now runs the most unethical, pernicious and inelegant, abusive, obtrusive and nationally divisive campaign in the history of electioneering in Nigeria.
"The other day it was the PDP candidate Atiku who, out of frustration, stated publicly that the north must not vote for anybody outside the region.
"It's the same trend that characterises the PDP campaign ever since.
"That surely is a sign of defeat, and readiness to sacrifice the unity of this country on the alter of unbridled inordinate ambition," APC-PCC further stated.
It said that Nigerians were wiser and would not allow PDP centrifugal forces to take the nation down with it.
"All men and women of good conscience should use their votes to send PDP to the dustbin of history."
Do you have a flair for Citizenship Journalism? Share story(ies) of happenings in your area with The NewsZenith on WhatsApp: 08033668669 or thenewszenith@gmail.com