By Our Correspondent
The Federal Inland Revenue Service (FIRS) says it generated N10 trillion in revenue in 2022, the highest in its history.
The Service gave the figures in its "FIRS 2022 Performance Update" released in Abuja on Monday.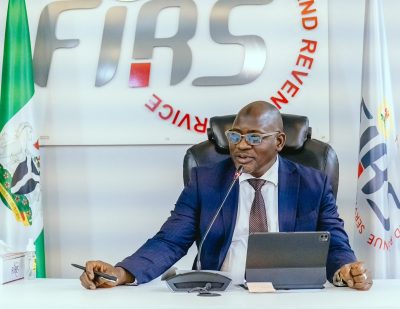 The CEO of FIRS, Muhammad Nami, released the document to the public after a briefing with President Muhammadu Buhari.
The reports said FIRS generated N5.96 trillion in non-oil sector and N4.09 trillion in oil sector against a target of N10.44 trillion.
"FIRS could not meet its target due to distractions and waivers," Nami said.
According to him, the distractions came from government agencies through instituted court cases, petitions and judgments granted.
It reads: "FIRS, in 2022 collected N10.1 trillion in both oil (N4.09 trillion) and non-oil (N5.96 trillion) revenues as against a target of N10.44 trillion.
"Companies income tax contributed N2.83 trillion; VAT N2.51 trillion; electronic money transfer levy N125.67 billion and earmarked taxes N353.69 billion.
"Non-oil taxes contributed 59 per cent of total collections in 2022 while oil tax collections stood at 41 per cent."
The report also indicated it was the first time the FIRS would cross the N10-trillion mark in tax revenue collection.
Read Related News:
It added that the N10.1 trillion was inclusive of the N146.27 billion, which is the total value of certificates issued by the FIRS to private investors and NNPC for road infrastructure.
These came under the Road Infrastructure Development Refurbishment Investment Tax Credit Scheme created by Executive Order No. 007 of 2019.
The amount also included tax waivers on account of various tax incentives granted under respective laws, amounting to N1.81 trillion.
The FIRS said that it achieved the feat due to the Nami-led management's administrative and operational restructuring, customer-focused service, creation of a data-centric institution and automation of administrative and operational processes.
"This collection was possible through collaboration with our stakeholders, colleagues at the Executive branch to the judiciary and the National Assembly."
Also Read:
Commenting on the outlook for 2023, Nami said FIRS would build on the current reforms.
He added that it would achieve full automation and establish a resilient service.
Such service, he noted, would continue to provide sustainable tax revenue to fund the government.
"We intend to maintain and even improve on the momentum in 2023.
"We have peaked, but this is not certainly our peak.
"My hope is that this would be the least sum the Service would ever collect going forward.
"Our goal is to identify more areas where we can improve in service delivery and efficiency of our collection.
"We will plug loopholes and deploy innovative reforms in data and artificial intelligence," he stated.
Do you have a flair for Citizenship Journalism? Share story(ies) of happenings in your area with The NewsZenith on WhatsApp: 08033668669 or thenewszenith@gmail.com